Best Company for Mattress Steam Cleaning, Sanitisation and Stain Removal in Melbourne
Once you've slept on a mattress that not only smells fresh but feels clean, you'll ask why you didn't get your mattress deep cleaned sooner. For this reason, our mattress cleaning service is pleased to offer mattress cleaning. Hot water extraction sometimes referred to as "steam cleaning," is the method we use to clean your mattress. It is advisable to use hot water while cleaning your mattress since it eliminates dust and other pollutants. By having your mattress sanitized by experts at Micks Mattress Cleaning Melbourne, you can reduce your risk of allergies and irritability. In addition to benefiting your health and asthma sufferers, cleaning your mattress can extend its lifespan. Furthermore, with the right sanitization, you'll be able to sleep.
Stains are annoying at times. Your mattress can once again feel, look, and smell brand new with the use of the proper mattress cleaning method. Our knowledge is broad and diverse. We follow environmentally friendly techniques and clean mattress stains, providing items that are safe to use. Our Mattress stain removal methods produce amazing results when utilized properly.

Why Is Choosing Professional Mattress Cleaners a Good Idea?

Dust Removal
You might think that using a typical vacuum cleaner to get rid of the dirt on your bed is simple. As your vacuum cleaner was probably not meant for this usage, some dust may rise into the air even though the bulk may fall off the mattress. Your household will have more issues as a consequence of breathing difficulties brought on by the extensive dust pollution. Our Mattress cleaning service will properly remove the dust from your mattress, keeping it from spreading across your home.

Extend the lifespan of Your Mattress
A mattress is an expensive investment, so you don't want to add additional wear to it if you can avoid it. If you don't know how to properly clean a mattress, you could unintentionally harm the fabric, reducing the mattress's lifespan. Your cleaning solutions may or may not damage the mattress, depending on the material. The best course of action is to have a professional mattress cleaning service.

Stain Cleanup
If you remove the bed sheet, you may see if your mattress is stained. Depending on where they came from and how they were handled, these stains could harm your mattress to decay if they weren't properly treated. If the stains are expertly cleansed by our mattress stain removal expert, your mattress will appear brand new and last longer.
Experience The Best Service for Mattress Sweat and Urine Stain Removal
There is still hope if you wind up with a discoloured mattress. If you don't put something between you and your mattress, stains from urine and sweat stains might even happen naturally. We're here to help you remove sweat and urine stains from mattresses!
Rather than doing DIY methods use our professional mattress cleaning service to get rid of unwanted urine stains and sweat stains. Our mattress stain removal experts use advanced technology and cleaning eco-friendly cleaning solutions that are safe for your kids, family, and pets.
Sweat stains on the mattress
Sweating is without a doubt the most frequent factor that causes mattress damage. Even when we are asleep, we all perspire. Sweat stains are first nearly invisible, but over time they develop into yellow marks and emit an intolerable odour. But before you throw away your mattress, Micks Mattress Cleaning Melbourne has an all-advanced method to clean it properly.
Urine on the mattress
We've all experienced the sinking sensation that follows discovering a mishap on a mattress. You quickly have visions of chemical fumes, hours of washing, and weeks of "do you smell that?" as you fight the lingering fragrance of that annoying pee stain, whether it was a surprise from sleeping with your pet or an accident from your child. Don't worry we are here to remove urine stains from your mattress.
Our Various Mattress Cleaning Melbourne Services

Mattress steam cleaning
Are you sick of having to clean messes off your mattress? Does frequent cleaning damage the material of your mattress? If so, you should not attempt to do this on your own and instead seek assistance from our mattress steam cleaning service. Our deep clean mattress has highly specialized processes that are suitable for the demands and regularity of your mattress as well as other requirements.

Mattress dry cleaning
You would need expert help to make sure your mattress sparkles like new and is germ-free. We can be of huge assistance in that situation! Our fully skilled and certified mattress cleaners quickly restore the lost shine. Our mattress cleaning service provides a specific mattress dry cleaning solution for sensitive and fine textiles that immediately eliminates all traces of dust, oil, stains, and mould without dampening your mattress or lowering the fabric quality.

Mattress mould removal
Mould removal is not a simple process; if you do it on your own, it will return repeatedly and never completely leave your mattress. You now feel the requirement for our mattress mould treatment service, with which our professional mattress cleaning can effectively remove specific treatment methods that permanently eradicate the mould families from your mattress.

Mattress stain and odour removal
Does your mattress have stains that won't go away? You can get in touch with our team for Mattress Cleaning In Melbourne. If you are in Melbourne; we specialise in getting rid of tough stains. No difficult stains may endure when we begin steam cleaning.

Dust mites' treatment mattress
A protein allergen found in dust mite faeces is what causes allergies. By deep clean mattresses, our experts will apply their advanced methods to get rid of dust, and mites from your mattress.

Mattress sanitization
You will be able to sleep soundly and hygienically on a clean and sanitised mattress. Your health could be negatively impacted by the illnesses that bed bugs spread. The best way to stay away from their bites is mattress cleaning and sanitization. The methods we use to disinfect mattresses are the ones that are most frequently made with chemical agents to keep your home healthy.

Mattress Bug Treatment
Bed bugs can harm you and bite you as well. For keeping bed bugs away from your mattress, our Mattress Cleaning Melbourne has advanced cleaning treatment. Get your service done today to get rid of bed bugs from your mattress.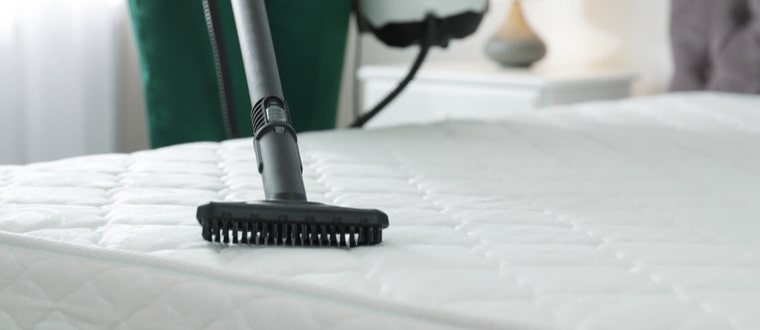 Our mattress cleaning procedure for the best results!
To clear the dust from the beds, our skilled cleaning staff uses a vacuum. We clean the surfaces without causing any harm using exclusive products and tools.
Our specialists utilise a fabric cleaner to get rid of bacteria after removing the dust particles. These machine's steam jets can debug your mattresses.
With the use of our mattress cleaning service, our experts deodorise a mattress' surface and eliminate any bugs or mites using steam jets that quickly dry.
You will get a mattress that has experienced a deep clean and is spotless inside and out.
Same-day mattress cleaning and emergency service team in Melbourne!
Want to get a clean mattress to relax? Micks Mattress Cleaning Melbourne offers the Same Day Mattress Cleaning, at reasonable rates, and top-notch mattress cleaning services in Melbourne. We help you sanitise and clean every mattress on the same day. We make everything dust and stain-free while being kind to your budget. Our cleaning services don't take many hours of labour and complete the task in a few hours, or the same day if it takes longer to complete. In fact, we can complete all the tasks on the same day as per your booking schedule. Therefore, you must get in touch with us if you're looking for quality mattress cleaning and same-day service in Melbourne.
Why choose us for mattress cleaning in Melbourne?
Our Service has the best-trained and most committed team of experts in mattress cleaning service in Melbourne, who do the work to your complete satisfaction on the same day.
Our professional mattress cleaning team has decades of expertise and a strong reputation in the cleaning sector.
We utilise proper cleaning products, equipment, and cleaning techniques.
We don't compromise on the quality of our job while still being quite gentle on your budget.
For cleaning services, our local professionals are available around-the-clock. You can also depend on our cleaners on the weekends and holidays.
We assure you of 100% stain removal and fast service delivery by our mattress stain removal expert.
Our professionals employ recognized methods to create a healthy and safe home environment.
Our mattress cleaning price is very affordable. Anyone can use our service.
Mattress Cleaning Services Available In Melbourne And Its Suburbs
We are offering mattress cleaning services across Melbourne. We are a team of professionals who employ advanced technology to clean your mattress anytime, anywhere in Melbourne. If you are looking for a mattress cleaning service in Melbourne, we are the best company available at your nearest location. Contact Us today to get your service done.
Frequently Asked Questions
Each job is unique. The price of expert mattress cleaning is based on the size and condition of the mattresses, and we must view the mattress to provide an estimate. However, we always offer prices that are reasonable and clear! We keep our pricing reasonable, so there are no unpleasant surprises for you. You can get in touch with us 7 days a week to obtain a quote from us; it's simple and costs nothing.
Some individuals advise vacuuming your mattress first, followed by a baking soda clean. Even though it's crucial to wash your mattress frequently, and you should flip it at least 2 times a year, this is not considered deep cleaning. You really shouldn't attempt to deep clean a mattress by yourself. Only mattress cleaning experts have the specialised tools and cleaning supplies needed. The only way to guarantee that your mattress is fully clear of bacteria, dirt, and dust mites is to do this.
It can be very challenging to remove urine from a mattress. It results in persistent marks that are not only ugly but may also make the bed smell awful and make it considerably less hygienic to sleep in. The majority of the time, home remedies are insufficiently potent to effectively remove pee from a mattress. Professional mattress cleaning can help with this.