Your One Destination For Safe and Quality Carpet Dry Cleaning in Melbourne – Micks
Micks Carpet Cleaning uses non-toxic solutions and environment-friendly equipment to provide carpet drying Melbourne services. This is because we prioritise offering "safe for public health" carpet dry cleaning Melbourne quality services. Our carpet dry cleaning machines are industrial grade imported ones that bring the best results out of the quality and safe services we provide. The non-toxic cleaning solutions we use don't consist of any type of chemical innards and their use instead fastens the drying time. Also, our solutions are safe for kids, the elderly and pets. As our carpet dry cleaners Melbourne team strive to offer the best in-field services, we focus on quality over quantity satisfaction. So, your destination can be us for dry cleaning if you call us at 03 4050 7972.
What is Carpet Dry Cleaning and When You Need This?
Carpet dry cleaning is an effective and safe way if one wants to get their carpets cleaned without any hassle. The dry cleaning process gets rid of dirt and spills from your carpets leaving behind a soft and clean carpet that smells fresh. Oftentimes, there are no toxic chemicals and soil or dirt-attracting stinky residues left behind because of carpet dry cleaning Melbourne service. In fact, people keep wondering about carpet dry cleaning vs steam cleaning when carpets just have surface dirt. And this is when you need to take note of dry cleaning service importance as they do surface dirt cleaning. If knowing in which situations to opt for dry cleaning services would be helpful, we would be glad to list them out.
Observe when the growth of mould is arising
Rapid cleaning for accidental stains and unpleasant odours
Regular dry cleaning services twice every year
Find the surface of the carpet dirtier
If you want to maintain hygiene in your home
Find yourself in discomfort when you come in contact with the carpet
Micks Offer A Complete Range Of Carpet Cleaning Services
Micks is a professional firm that meets all your needs in emergencies by providing the complete range of carpet cleaning Melbourne services. We provide our carpet cleaning services all across Melbourne, despite the climate and seasonal changes. Moreover, the bookings are available for each and every service 24/7/365 days a year.
Carpet Dry Cleaning Service
Carpet Mould Removal Service
Carpet Odour Removal Service
Carpet Sanitization Removal Service
Carpet Deodorization Service
Carpet Fabric Scotchgard Protection Service.
Our Micks Carpet Cleaning Service Included:
Carpet Dry Cleaning vs Steam Cleaning
The carpet dry cleaning method offers cleansing power with compound carpet cleaning products for pre-treatment and then actual cleaning. This type of carpet cleaning is usually used for homes that are in need of spot treatment and for carpets in dust traffic areas. Whereas, the carpet steam cleaning method is a very efficient and effective way to lift all the built-up dirt from deeper layers of carpets. Steam cleaning the carpet also makes the carpet germ-free and you can prevent getting allergic reactions.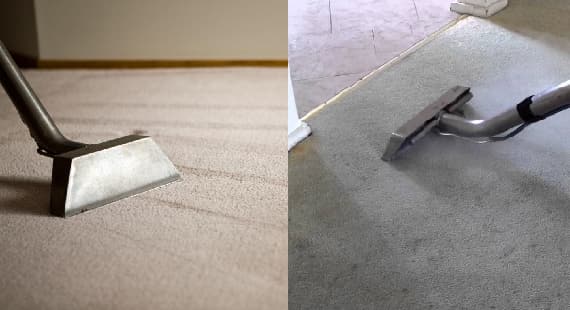 Your True Cleaning Partner: Get Carpet Scotchgard Protection
For all the carpets that we treat with our carpet dry cleaning Melbourne service, we additionally offer carpet Scotchgard protection service. With this service, your carpets can be protected from everyday spills, unwanted dust and dust whilst keeping them looking good for longer periods. We use Scotchgard protector as a spray-on coating for carpets and make them appear fresh. In fact, with something as carpet Scotchgard protectors your carpet gets a true cleaning partner that helps them fight against stains and germs. When we use this protector on carpets, we suggest you let the carpet dry for at least 2 to 6 hours before use. So, call us right away and make the best decision for your carpets protection!
We Not Only Clean Carpet We Dry It Too, Carpet Drying Melbourne
Dirty carpets contain unknown dangers on them and cause serious health issues to your health. As a result, our cleaners do the most effective carpet dry cleaning Melbourne service. After that, we also do carpet drying Melbourne service as we consider this step a mandatory service. We use different drying methods depending on the type of carpet fabric our clients use. Because delicate fabrics are different from that of others. For example, we leave them to air dry and create natural airflow carpet fabric that doesn't need an extra drying period. But most of the other carpet fabrics that need extra care will be dried using point fans, air dryers and dehumidifiers. Therefore, worry not about post-drying your carpets.

Why Do People Trust Us For Carpet Dry Cleaning Service in Melbourne?
The key reasons that make us the best carpet dry cleaning service providers in Melbourne are:

Simple Ways
To explain what we are going to do to your carpets, we use simple ways rather than technical terms. This way you can understand our process of inspection, carpet dry cleaning and fabric Scotchgard protection.

Certified Teams
For making sure all of our clients get complete satisfactory service results, we deeply certified teams. As we are certified teams, we are legally approved to do carpet dry cleaning Melbourne services.

Reasonable Charges
We charge you reasonably on the basis of how much cleaning your carpet needs. In fact, you can get carpet drying Melbourne service too as a part of the dry cleaning service!

Advanced Tools & Machines
Even for the least significant patches on your carpet, we use advanced tools and machines for solving those issues. Because it never goes wrong with our use of these tools and machines we carry with us.

In-Time Services
We never get tired of providing in-time services as we are a part of Melbourne. Our local cleaners are capable of making you skip the hassle of self-cleaning and give them a chance.
Are You Ready to Add a New Shine to Your Carpet? Then There is No Other Better Option Than MAX
Quit searching for a company for carpet dry cleaning Melbourne services if you find Micks in your results. We use the latest technology for carpet dry cleaning on-site without much hassle. Aid from Micks is affordable, effective, efficient and fast drying times. Moreover, we patiently dry the carpet irrespective of the time it takes to complete the carpet dry cleaning service. Our carpet dry cleaners Melbourne team is polite, friendly, patient and very understanding. So, we listen to all the issues your carpet is facing from dirt, debris, dirt and stains. With our help, your carpets will shine in no time as we utilize eco-friendly solutions. Hence, if you are set to see your carpets shine and bright, Micks is your better option to look for in Melbourne!